When Harassment is Considered Domestic Violence
May 5, 2021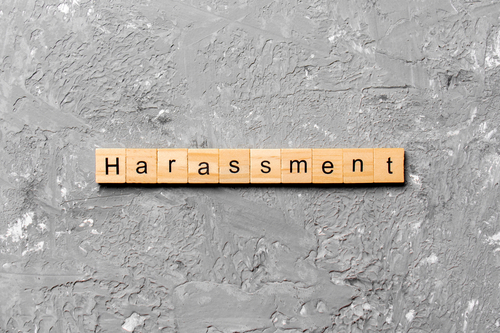 Harassment draws a fine line between inappropriate behavior and domestic violence charges.  Disagreements and threats between partners can result in the police being called and someone being taken to jail. Even long after the fight is over, one partner can be left with criminal charges or a restraining order. Continue reading to learn more about the differences between harassment and domestic violence below.
What is Civil Harassment?
Civil harassment includes a long list of behaviors that are meant to intimidate or harm another person. This might include:
Making frequent phone calls
Repeatedly knocking on someone's door late at night
Annoying someone with offensive language
Alarming someone with the intention of making threats
Harassment is any behavior that is done with the intention of knowingly and willingly trying to annoy, threaten, torment, or terrorize them.
What is Domestic Violence?
Domestic violence, on the other hand, includes physical violence between two partners. This might include:
Hitting or kicking a significant other
Shoving someone down the stairs
Sexual assault
And more
Domestic violence is illegal and can lead to criminal charges. It also often leads to a restraining order.
Understanding the Biggest Differences
The biggest difference between domestic violence and civil harassment are the legal consequences associated with each offense. Domestic violence will usually lead to protection or restraining orders. Civil harassment is not always domestic violence. However, if a police officer is called to a property for civil harassment, they will further evaluate the situation. If they determine that domestic violence is present, they will take the offender to jail and they will likely receive charges. Additionally, the courts may issue protective orders against the offender, even if the complaint doesn't request it.
Civil harassment can turn into domestic violence when the harassment becomes threatening to the person. This could include frequent attempts to put the person in an unsafe situation. To classify as domestic violence, it must be against a partner, such as a previous or current spouse or a boyfriend or girlfriend.
When to Hire a Criminal Defense Lawyer
If you are dealing with criminal harassment or domestic violence charges, it is important to reach out to a lawyer as soon as possible. It is not always up to the victim once the police are called. For this reason, even if the accusation of domestic violence was a mistake, you could still be charged. Domestic violence charges can have a long-lasting effect. In addition to the initial charges, it could also affect a divorce or child custody case. The judge may also require that you avoid contact with the victim, which can make it difficult to figure out living arrangements.
A defense lawyer can help you navigate your case, evaluating the charges and available defenses. They can also help you establish proof that may show that your intentions were not to threaten or harm the victim. Because domestic violence charges can lead to jail time, it is important that you take action soon. Your lawyer will need time to review the details of your case.
Contact an Experienced Marlton Criminal Defense Lawyer About Your Domestic Violence Charges in New Jersey
Were you arrested or charged with domestic violence in New Jersey. The consequences of a conviction could be severe, leaving you with a permanent criminal record and possibly even sending you to jail. That is why you need to speak with a qualified criminal defense attorney as soon as possible about your case. The Law Office of John B. Brennan has successfully represented clients charged with domestic violence in Marlton, Cherry Hill, Evesham, Haddonfield, and throughout New Jersey. Call (856) 446-5123 or fill out the online contact form to schedule a consultation with a member of our legal team. We have an office conveniently located at 10,000 Lincoln Dr. East, Suite 201, Marlton, NJ 08053.
The articles on this blog are for informative purposes only and are no substitute for legal advice or an attorney-client relationship. If you are seeking legal advice, please contact our law firm directly.
Disorderly conduct consists of any improper behavior such as fighting, threats of violence, or creating a dangerous atmosphere.