What to Expect at a Domestic Violence Detention Hearing
March 22, 2022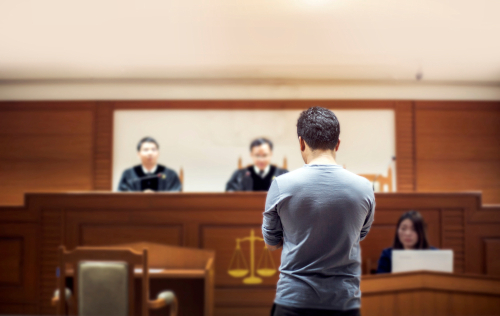 Domestic violence cases now require a detention hearing in New Jersey. Learning what a detention hearing is and what to expect during one can help you prepare for your case.
What is a Detention Hearing?
New Jersey recently enacted the Criminal Justice Reform, which is sometimes referred to as Bail Reform. This program removes the traditional bail system that requires defendants to put up a certain amount of money to await their trial date at home.
Under the new laws, most defendants will receive a detention hearing within 24-48 hours of their arrest. During the detention hearing, the judge decides if the defendant should be released or not, and under what circumstances. Defendants with less serious crimes are more likely to be released, regardless of whether or not they can afford bail. The detention hearing rule also applies to cases of domestic violence. It also includes crimes of all types, including both disorderly persons and felony charges.
Types of Domestic Violence Cases
Most domestic violence cases require the defendant to have a detention hearing, including:
Aggravated assault
Criminal mischief
This is not a complete list. Any defendant with an offense that is considered an act of domestic violence will likely receive a detention hearing.
What Can I Expect After Being Arrested for Domestic Violence?
If you're arrested for domestic violence, you can expect a few things to occur. For one, the police officer will take you to the nearest police station where they'll book and fingerprint you. Then, you'll be placed in a waiting cell for up to 48 hours until you receive your detention hearing.
What happens during your detention hearing will determine what happens next. If the judge believes that you aren't a danger, they may release you to await your next trial date. If the judge believes that you are a danger, usually from the victim or police officer's reports, they may require you to stay until your court date.
Even if you're declined bail during the first detention hearing, you may have another chance to argue your case. If you aren't released during your first detention hearing, the prosecutor will begin preparing their case in an attempt to convince the judge to keep you.
What Can I Expect During a Domestic Violence Detention Hearing?
This second detention hearing usually occurs no more than five days after the first detention hearing. This detention hearing is typically more thorough and may include a few topics.
The probation department will complete a Public Safety Assessment, which considers your risk of committing another crime and how likely you are to return to court for your trial date. The judge will also consider the details of the crime, as well as any other previously committed crimes when making their bail decision.
One of the biggest considerations the judge will review is the safety of the victim and if you pose a risk to them if released. A criminal defense lawyer can be helpful to your case as you navigate your detention hearing.
Contact an Experienced Mount Laurel Criminal Defense Lawyer About Your Domestic Violence Charges in New Jersey
Were you arrested or charged with domestic violence in New Jersey? The consequences of a conviction could be severe, leaving you with a permanent criminal record and possibly even sending you to jail. That is why you need to speak with a qualified criminal defense attorney as soon as possible about your case. The  Law Office of John B. Brennan has successfully represented clients charged with domestic violence in Mt. Laurel, Marlton, Moorestown, Maple Shade, and throughout New Jersey. Call (856) 446-5123 or fill out the online contact form to schedule a consultation with a member of our legal team. We have an office conveniently located at 10,000 Lincoln Dr. East, Suite 201, Marlton, NJ 08053.
The articles on this blog are for informative purposes only and are no substitute for legal advice or an attorney-client relationship. If you are seeking legal advice, please contact our law firm directly.
Disorderly conduct consists of any improper behavior such as fighting, threats of violence, or creating a dangerous atmosphere.