Can You Buy Legal Marijuana in New Jersey?
February 23, 2021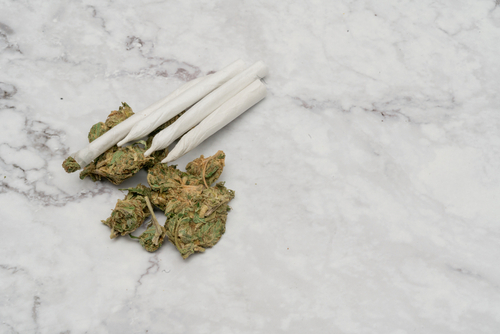 As of Monday, February 22, 2021 marijuana is officially legal in the state of New Jersey – but what does that mean for those who have existing criminal records for marijuana possession? Will your record be automatically expunged now that marijuana has finally been legalized? Can you still go to jail for possession of it? Continue reading to learn more about what to expect under the new marijuana decriminalization laws in New Jersey. 
Read more: Does New Jersey Consider Drug Possession a Felony?
Is Marijuana Really Legal in New Jersey?
Yes – but only up to six ounces. If you possess any more than this allotted amount, you will still face legal consequences. Under the new law, New Jersey residents can possess up to six ounces of marijuana and smoke it in the privacy of their own home. However, it will still be against the law to smoke it on public sidewalks, streets and on public transportation as it would consuming alcohol.
Is it Legal to Grow My Own Marijuana in NJ?
No. While it may be legal to do so in other states that have legalized marijuna, in New Jersey it will still be against the law. As it stands, there is no provision in the new law that will allow residents to grow a marijuana plant for any reason, whether it be for recreational or medicinal use.
Will Your Criminal Record Be Expunged?
Yes, it appears it will be. As it stands, there is a new policy in development that looks to vacate criminal records of those who were previously convicted of mariuana possession. However, only time will tell whether or not this will only apply to those who were convicted of possessing up to six ounces of marijuana.
However, if you have marijuana charges currently against you, they will be thrown out under this new law.
If you were convicted of a drug crime and you want to know if you qualify for an expungement, don't delay to contact The Law Office of John B. Brennan for a consultation. Our law firm can be reached at (856) 988-5443 or by visiting our website. 
Read more: New Jersey Expungement Process
Contact an Experienced Marlton Criminal Defense Attorney About Your Drug Crime Charges in New Jersey
Have you been charged with a drug crime in New Jersey? A criminal conviction can carry with it heavy fines, jail time, and driver's license suspension. That is why it is imperative that you speak with a qualified criminal defense lawyer about your case. The Law Office of John B. Brennan represents clients charged with use, possession, production, distribution, and related drug offenses in Mount Laurel, Moorestown, Voorhees, Medford, and throughout New Jersey. Call (856) 988-5443 or fill out our confidential online contact form to schedule a free consultation about your case. I am located at 10,000 Lincoln Dr. East, Suite 201, Marlton, NJ 08053.
The articles on this blog are for informative purposes only and are no substitute for legal advice or an attorney-client relationship. If you are seeking legal advice, please contact our law firm directly.